Abundance is a topic that has been misunderstood for quite some time. Your view of what abundance is may make it seem as though it only pertains to wealth and all things financial, but that really isn't true. You may even view it as affluence, influence, or perhaps you just see the definition in black and white as it pertains to anything.
This means that whenever you think about having more you think of how it pertains to having more of anything. Have you ever been in a field and as far as you could see there were hundreds if not thousands of wildflowers? That is the only manner in which I used to use this term to define what I was thinking and feeling.
Today, you probably just want answers on how you can bring more of it into your life as I do and many other folks I know. Perhaps all you really need is just a simple change in your thought pattern. If you can redirect your thoughts you can easily begin to see how you can manifest things into your life that are good and positive. I am going to share with you how you can live more abundantly in all areas of your life.
Bringing Abundance Into Your Life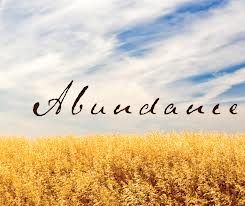 One of the greatest ways to bring good into your life is to see it all around you. It takes time and practice to do this but you just start by doing and let the rest follow. The best things in life are free, so consider that appreciation for nature and all its natural beauty are there for the taking.
Even if you are down and out, all you need to do is look around you and appreciate the things you are grateful for. Depending on what you place value on in life will determine your outcome, and if you tend to place high value on things that are materialistic.
It's wise to consider that with abundance everything around us feeds us every day in every way. Whether it's spiritual or material we get fed by it, but it's often the spiritual we focus on less. It's a matter of taking simple steps to plant those seeds even if they are for yourself including:
Practice gratitude-keep a gratitude journal and keep a list of what you are grateful for
Be aware that great things come in small packages-again look at the simple things each day
Reach out to those you haven't spoken with in awhile-touch base with old friends and let them know you care
Work on self-care-taking care of yourself is super important because if you aren't in good health you can't function
Do random acts of kindness-doing something for someone else can make you feel pretty good so reach out and do something that someone around you wouldn't expect
These are all important, and they can bring the goodness into your life that you really want.
Keep Abundance in Your Life Forever
It's key to understand that you get in your life what you attract into it. This is a principal that has been misunderstood for many years, but if you are constantly negative you'll keep attracting into your life what is negative and unsavory.
Always, always, always, acknowledge the positive things in your life and don't look back. If you constantly focus on lack you'll just be focused on lack. Always reflect on your gratitude journal if you have one and be sure to reach out and thank people for what they have done for you or added to your life.
One of the ways in which you can keep blessings in the forefront is to talk about them. Speak of the good not of the bad, and focus your energy on looking at the blessings in your life. Limit what you say about the past, what is negative and bad energy, and above all forgive.
You'll find that following these tips will not only help you manifest abundance in your personal life, but you'll get the same results in your business too.
Comments
comments
Tags: abundance